My Beauty Must Haves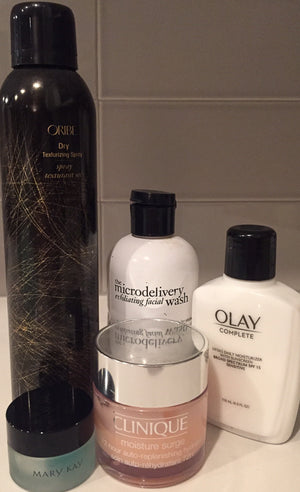 I am all girl, I love beauty products. Makeup, skin care, hair tools, nails, I love it all. This is a list of my must have beauty products that I cannot live without!
My aunt sells Mary Kay so I have always grown up learning to take care of my skin! Making sure you have a good skin care routine is key. I have really dry skin and was lucky that when I was younger I never had to deal with acne. I actually deal with more breakouts now that I am older. Some skin care products that I can not live without are my daily moisturizer from Olay. I chose one with sunscreen in it for that extra layer of protection. I also really love my vitamin c serum from Mary Kay. I usually put this on at night before my night time moisturizer. For those days where you wake up with puffy eyes, I love Mary Kays soothing eye gel. Its pretty inexpensive and a little goes a long way. On days where I'm feeling super dry, Clinique's moisture surge is my go to. I also am obsessed with Philosophy's micro delivery exfoliating wash. It's gentle enough to use daily and I notice the difference in my skin when I go a day without.
I love a good bronzer and I feel like my face doesn't look quite right without it. I've been using Benefit's Hoola bronzer for as long as I can remember.
Dry shampoo and texturizing spray
I have really thin hair and hate washing my hair every day. Dry shampoo and texturizing spray is a lifesaver! I love Batiste dry shampoo. They have a bunch of different scents. I personally like the tropical scent the best and it can be found at Ulta for under $10. I use dry shampoo along with my Oribe texturizing spray. This brand is on the pricier side but one bottle has lasted me a really long time. When you have thin hair like I do, you need to use products that are "dry" as opposed to an oil.
I recently purchased the Revlon blow dryer brush from Amazon for around $40. I have naturally wavy hair and typically would straighten my hair more after blow drying it. I hated using that much heat on my hair all of the time. After using the blow dryer brush one time, I knew I was hooked. I no longer need to straighten afterwards. Whoever came up with this blow dryer brush is a genius.
Loving Tan 2 Hour Express Foam
I feel so much better with a tan! But too much sun exposure is bad for your skin. And I really dislike using the tanning bed. I have used tons of different kinds of tanning foams and lotions and this is my new favorite. I love that you can put it on and then take a shower 2 hours later and have that perfect golden tan. Its not orange or streaky. I use the Ulta brand mit. Make sure you put it on in a circular motion to avoid lines!
Do we have any similar favorites?!
Xoxo,
Jenn
Leave a comment
Comments will be approved before showing up.